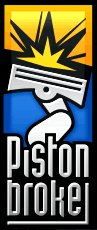 Website Solutions
Is your website working for you?
There are two things your business cannot overcome:
Lack of internet presence
A poor online presence, which is even worse
If you don't have a website, you need one.
If you do have a website; it'd better be attractive, interesting, and convey your message accurately and clearly.
Pistonbroke offers complete internet presence development and management, including:
contact
Ask the experts?
Thank you.
Your message was successfully sent. We will get back to you as soon as possible.
This website requires JavaScript for layout purposes, please enable it in your browser.