Meet the Team
The team at pistonbroke makes the difference
Bradley Glonka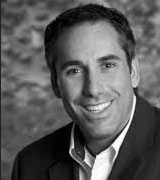 With over 15 years of experience in information technology, Bradley Glonka has developed a solid reputation as an accomplished expert in the IT field. He has successfully lent his broad scope of IT wisdom to a diverse collection of enterprises including clients in the fields of telecommunications; health; law; marketing; mortgage banking; news and information media; the automotive, manufacturing, and engineering industries; and beyond.
Business cannot function without technology and, from B2B to E-commerce systems, Bradley has finessed the internal and external needs of companies through his extensive experience in web-based communications and information exchange systems.
Bradley's expertise lies not only in what he has learned through years of working in IT, but in his conscientious attitude toward staying up-to-date with the changes of this burgeoning and ever-expanding industry.
His IT proficiency has enabled companies to leverage IT systems with confidence and flourish in the modern age of the Internet, an environment that is crucial to any business' success in today's marketplace. From the implementation of Web 2.0 applications to Cloud Computing, from streamlining websites for easy, internal management to search engine optimization (SEO), Bradley is well-known for utilizing his knowledge of specialized technologies to devise and implement effective, sophisticated, customized technology infrastructures from the ground up. He is notably adept at interpreting the marriage of business and technology so that each individual corporation can reduce their operating expenses, increase productivity, and heighten customer awareness and retention.
Bradley's mastery of the IT field has enabled him to mesh his proficiency with the emerging Linux and Unix platforms to become extensively involved in and supportive of that technological community. He is also sought-after for his work with software and application development, search engine marketing (SEM), database development and administration, carrier services, infrastructures, Windows server management, marketing, and the development of an Internet presence. Business operations prosper under Bradley's technical solutions in an online world. His ability to simplify tech-talk while instructing all manner of individuals, Bradley has trained C-level executives and entry-level employees alike.
As an entrepreneur, Bradley launched a profitable E-commerce start-up that quickly reached $1 million in revenue in its first full year of operation, and successfully developed and executed an exit strategy for the business.
Bradley holds a master's degree in business information technology and an undergraduate degree from Wayne State University. As a proud father of two boys, Bradley is a highly involved parent, donating his time to the school PTA as vice president and coaching his sons' hockey teams
Gonzalo DeLaPeña-Andreu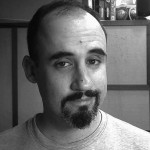 Gonzalo has been designing and hacking the world-wide-web since the mid-nineties. Formally trained as a Graphic Designer, Gonzalo has taken it upon himself to learn everything involved in the creation of websites in order to be able to transfer his design ideas onto the HTML page with painstaking pixel-perfect precision.
Gonzalo's expertise in IT-related fields has been mostly self-taught since getting access and an early interest in computers and electronics during his childhood; the rise of the internet presented the perfect opportunity for him to combine this with a then nascent curiosity for the visual arts in general and graphic design in particular.
Self-described as a "veteran of the Browser Wars" Gonzalo is very experienced in developing for the web.
Since the early days of figuring out Mosaic, Lynx and Netscape v.s. Internet Explorer all the way to today's buzz-word generating technologies like Ajax, HTML5 and Web 2.0; he has always striven to remain up to date with the trends that define the ever-evolving medium that is The Internet.
Early in his career as a Graphic Designer Gonzalo was awarded the widely recognized Quorum Design Prize given by the council of graphic designers of Mexico. The first ever awarded for the Web Page category in 1997.
Gonzalo has held various leading positions during his professional career and is a co-founding partner of Pistonbroke. He holds a Bachelor's Degree in Design of Visual Communication from the Metropolitan University of Mexico City (UAM).
Whenever Gonzalo is not working he is traveling the world on his trusty touring bicycle "La Mula" which has taken him over fifty thousand kilometers, ten different countries and three continents for over a decade and going.
Elizabeth McGolerick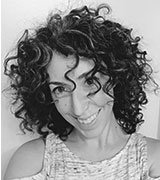 Elizabeth McGolerick has been a professional writer and editor for over a decade. Before launching her full-time freelance writing career, she worked as a book publicist and corporate marketer. She is responsible for writing blog posts and developing web content for Pistonbroke's diverse roster of clients, which has enhanced her versatility and ability to compose copy on just about any topic. Elizabeth also contributes her writing talents to a boutique inbound marketing agency as well as women's lifestyle and parenting websites.
One of her professional goals is to reinforce that good writing can truly catapult your business into new echelons. If you want to compete in your industry and stand out among your competitors, surround yourself with good writing – from newsletters to websites to e-books to Tweets. Elizabeth believes that businesses need a lot of cogs to make the wheel turn, but the most important element is an eloquent mouthpiece. If you aren't presenting your goods or services through competent, creative writing, online and offline, you're doing your business a great disservice.
"Every piece of writing I produce, every project that has my mark gets equal attention and heart, even if it's writing that's behind-the-scenes and will never have a byline."
"The writing that doesn't have my name on it is actually some of the most important work I do because I'm being entrusted with the role of silent ambassador for a brand, a business, a livelihood. I take this responsibility seriously and guarantee that the writing I produce will be creative, thorough, and, of course, search engine optimized."
An avid reader and bookworm, Elizabeth has long been engaged in a torrid love affair with the written word. She edits everything she reads, even when she doesn't want to, and isn't shy about letting people know that they've erred in the use of "your" or "you're." (If you find any typos on this website, Elizabeth just hasn't had the opportunity to review those pages yet). Her favorite scent is fresh paper and, while she reluctantly sees the value in e-readers for some people, she will never possess this piece of technology.
Elizabeth has an MFA in creative writing from George Mason University, a BA in English and communications from Saint Francis University, and has studied at Cambridge University. She used to classify herself as a "Jane of all trades," but now that she's the mother of two very mischievous young children, the term has taken on a whole new meaning.
Cara Cherry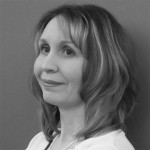 A seasoned PR/Marketing professional with more than 15 years of experience, Cara has worked with a diverse range of clients in the fields of garment decorating, healthcare, architecture, automotive manufacturing, and financial. She provides social media management, website content, and a variety of other services to many of PistonBroke's top clients.
As a published writer, Cara contributes to several industry specific magazines and blogs. Her grasp of emerging trends in public relations and social media has also led to frequent consulting requests. She has strong organizational skills and has helped coordinate a number of different corporate events from large scale annual corporate meetings to intimate business dinners.
"When I am asked what I love about social media, my answer is the ability to share information and ideas on a human level.
Social media is not just about self-promotion – it's about responding to feedback, nurturing relationships, and creating positive experiences. It's a powerful tool and one that I believe allows society to learn and interact in ways truly never experienced before."
Cara has a master's degree in Public Relations and Organizational Communications from Wayne State University and a bachelor's degree in Marketing from Walsh College. As a busy mom to two young children, she divides her time between cheering for her daughter's basketball team and her son's baseball team. She also volunteers her time and serves on the Board of Directors for her subdivisions Home Owner's Association maintaining the website and handling social media activities.