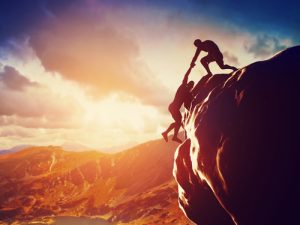 Getting to the top of Google's search results isn't easy. Once upon a time, there used to be a keyword formula that could help you land at the top of the page. But now Google Ads are taking precedence – and if you're not investing in Google Ads, you're less likely to find yourself coming up first in an online search.
3 Reasons Getting to the Top of Google Isn't Easy
You might be doing everything right with your website, like using thoughtful tags and carefully researched keywords and targeted geomarketing, but there are three big reasons you're still not coming up first in a web search:
Too many ads: Google is putting more and more ads at the top of the search results page. There are often four ads at the top of any random search result. That's a lot.
Ads, ads everywhere: Local results also include ads, including map searches. Might be convenient when you're doing your own searches, but it's not so great when you want your business to show up first.
Organic is demoted: Organic search results often don't show up until the eighth or ninth spot on the search results page, making them less valuable than ever before. People can still find you based precisely on their search terms, but only if they scroll down – and that's not always guaranteed.
Running a Google Ads Campaign Will Get You to the Top – Sometimes
If you're done playing second fiddle to other search results, you may be ready to dip your toes into the Google Ads campaign pool. You can do everything right and it will help elevate you to the top of the page – but you're not always guaranteed a successful placement. You might be demoted because you'll be competing with others for the top spot. After all, your biz isn't the only one adopting Google Ads.
Done right, you can reap the rewards of Google Ads, and you can keep track of ad performance. Google provides you with data for every single ad, telling you how many clicks you got and when and notifying you about the best-working keywords. Feedback also includes the all-important number crunching – calculating the cost of a new business lead and measuring the ad performance in real time.
In other words, Google calculates your ROI or ROAS (return on ad spend). You can immediately fix what isn't working and truly measure your advertising efforts.
The Targeted Google Ad
There is no longer a magic formula for getting to the top of Google, but investing in Google Ads will help you perform better and make it far more likely for you to show up at the top.
Remember – someone is always searching for what you're selling. All you need to do is figure out what kind of ad you should be offering so they'll bite when Google pushes you to the head of the class. From search ads to call-only ads, display ads to video ads, you have options. Know your customer and target them with the right Google Ads.