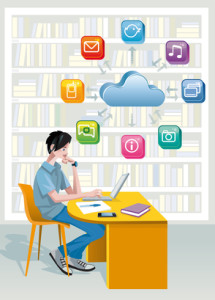 Twitter is kicking it old school with the launch of their clean, uncluttered, and functional design meant to highlight you or your business. They're also kind of imitating their frenemy, Facebook. However, unlike Facebook's irksome changes that have users up in arms every six months or so, Twitter has created a largely intuitive and friendly new platform.
There is a lot of visual noise on Facebook. It seems that the emphasis is often on "more" instead of "better" when it comes to sharing information through social media or even a blog. But Twitter has decided that keeping it clean is the right way to go, putting the spotlight on its users and the 140 characters they care to share (umpteen times a day, for some).
Haven't Tweeted lately? Or been Tweeting blindly through social media links on websites rather than manually posting your stuff? Pop-ups will guide you through the Twitter changes and point out new functions as you make the quick and easy switch.
Here's a Cliff's Notes of what you can expect to encounter as you freshen up your social media presence:
Say a Really Big "Cheese!"
If you're someone who's always had to squint to see what a Twitter user's profile photo looks like, put away the bifocals. The profile picture is now larger, as is the profile header (very reminiscent of Facebook, but even bigger). The small Twitter account description that used to float over your header photo has been shifted to underneath the profile pic in the left column. That means your header is completely free to be whatever it wants to be – merely a decorative pic, or a really sweet spot for branding.
Social media: Just being there isn't enough >>
Hide and Seek
The new Filtered Tweets let you choose the Twitter view you want to see – Tweets, Tweets with videos or photos, or Tweets and replies. It's similar to the capability that Facebook users have to hide or minimize the number of updates they see written by certain people.
One of the biggest changes to the Twitter profile page is fluid. How much others interact with your Tweets – retweeting, replies, marking as a favorite – determines whether a Tweet will be categorized as a "Best Tweet." The Tweets that get a lot of action appear in a slightly larger font within your feed making it easy for you and your followers to spot your most popular content. (Though is it sad if your most prominent Tweet of the past 12 months is a comment you made about poor game play on Big Brother?)
Also handy is the new Pinned Tweet function that enables users to pin one Tweet to the top of their profile page, no matter what date it was originally posted. Visitors to your profile will know immediately what kind of Twitter bird you are by these featured 140 characters.
What's on the Menu
The new Twitter menu can be found as a horizontal bar under the header photo (yet another Face(book) lift), allowing you to choose to view your own Tweets, Photos and Videos, Following, Followers, or Favorites. A very aesthetically pleasing update is the Following and Followers tabs, which now show accounts as a tiled view rather than a list.
Twitter is working to keep up with Facebookers, but they're still keeping their own personality in check, maintaining the site's foundation of brevity while perhaps borrowing a bit of inspiration from their social media counterparts. Ultimately, even if you're no fan of social media, Twitter is the modern version of the online business card – you really can't afford not to be out there chirping with competitors, customers, and colleagues. It's only 140 characters a day – no one says you have to be witty every time. Contact Pistonbroke to get advice on populating your social media with the right kinds of keywords and links – because, oh yeah, SEO matters there too.