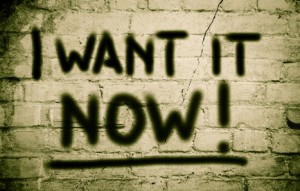 WordPress. Isn't that the generic blog so-and-so was using back in 2003? Probably. But that's your MP3 player's WordPress. It's time to meet the WordPress of the Veruca Salt "I Want It Now" Generation.
WordPress is a content management system (CMS) that has capabilities far beyond blogging. It may have started as a blogging platform alone, but it's now the leading website publishing system; over 60 million websites operate on a WordPress CMS. And because WordPress is open-source software, it's free and has no license fees.
Now for the stuff that will really wet your whistle.
With WordPress Your Website is Your Own
One of the things that can trip up a business is waiting for a webmaster to make changes to your site for you. If someone builds your website and doesn't do so with a CMS in place, you're at the mercy of another person's schedule and availability. If you need something new published in 10 minutes, you may not get your wish – or else you'll pay dearly for a rush job.
A CMS like WordPress puts the power in the website owner's hands. You can add, edit, delete, or change any content on your pages or blog posts in just a few clicks, in just a few minutes, at your leisure.
If you want to add fresh content – like a new link – you can do it at the moment you think of it. You can create a new blog post – with an SEO title, keyword, description, tags, and categories – in minutes. It's even possible to add a new page on your site with just a few clicks – there's no need to understand geek speak or programming language. No HTML this, CSS that, or PHP mumbo jumbo. (Are you breathing easier already?) The HTML design of your WordPress site is completely separate from the content so you never have to see a < or a > unless you want to. Using WordPress is like editing a Word document. Word.
That's Fresh: Why Blog Writing Is the Nectar of Google >>
You can maintain your own website content with WordPress. All of it.
WordPress is Mobile-Friendly
This is the era of the mobile lifestyle, where information is shared and delivered in seconds and you better keep up or your business will flounder against competitors. We live and sleep by our handheld devices, and you should be able to manage this crucial aspect of your business – your website – through your mobile device, and enable designated employees to do the same. WordPress makes it possible to work any minute of the 24/7 workday (if you're that kind of worker, or if you just get your best brainstorms in the middle of the night).
WordPress Has Few Limits
So the next question is: OK, what can't I do because I'm using a one-time blogging platform? How sophisticated can WordPress really be? Answer: If there's something you've ever wanted to do on your site, it's likely that someone else has wanted the same thing – and found a way to get it. So there's a good chance that there's a plug-in to match your wants or whims, which makes it incredibly easy to implement that feature in a WordPress CMS, like Google Analytics, XML Sitemaps, or social media integration (yes, your Twitter feed can show up on your homepage).
WordPress Can Be Pretty (or Handsome)
While we all know that the content of a website is its most important attribute, the look and feel is still important because – hey – looks do matter, no matter what you're selling or promoting. Your WordPress site doesn't have to look like a blog. In fact, it shouldn't. The appearance of your website can be whatever you want it to be. It can include pictures, videos, menus, mini-sites, sliders, the list really does go on for days. If you can dream it, WordPress can do it.
Have we said enough? Can you tell that we like WordPress? Did you know that this website you're reading right now was built in WordPress? And that this blog post was uploaded to the site in less than two minutes? You know you want it. Give Pistonbroke a shout. We have time to talk. We use WordPress.